I just want to say a big thank you for all your work on Tuesday. It was a day of smiles and tears. I woke that morning feeling it was the worst day of my life but it was actually a great comfort to be surrounded by people who loved and cared about my Dad. Thank you for your sensitivity and humility; you made the day run very smoothly.
                                                                        T. Bushnell
I would like to thank you for all you did leading up to and on the day.
When I first spoke to you I felt comfort and know your were easy to talk to. Especially when you giggled when I told you mums first song was a spice girls song. You told me how the order of service was going to be and made it sound so easy
On the day of the funeral when you introduced yourself I felt everything was going to be OK. When I said my poem then became emotional and I could not carry on, you jumped up and carried on where I struggled.
It was a absolute pleasure to work along side you.
Once again a heart felt thank you.
M. Coleman
The service was exactly what my family and I wished for in saying our goodbyes.
M. Smith
I just wanted to express my gratitude and appreciation for the way you ran my father's cremation last week.
The family all spoke of the calmness of your tone, your wonderful delivery and choice of poems/readings and respectful attitude. It really made all the difference.
E. Walker
We wanted to thank you for your calm and considered approach, as a celebrant, at out Mother's funeral.  You relieved a lot of our strain by planning the order of service with us and offered some invaluable advice and suggestions. 
Your delivery on the day was most appropriate to the occasion and the limitations imposed by the COVID situation did not diminish the thoughtful words you relayed about Mum. 
We could not have hoped for any more from you and we have had many comments about how lovely the service was.
Thank you again
I and B Jefferies
On behalf of all the family, can I say thank you very much for your beautiful and moving service yesterday for my father's cremation. In these trying times, your help and professionalism in compiling and carrying out the service, was a massive help to us all.
R. Morrison
I was very pleased with the service you recently did for dad's funeral. The choice of poem and reading were exactly right and the overall service was conducted in a quiet and calm manner and at a steady pace throughout. From our initial phone contact to the funeral day itself, everything went smoothly and my family members who attended and those that couldn't (I sent them the service) all said it was a fine tribute to dad's life. Again, many thanks.
L. Allsopp
Thank you for your help with the service in these difficult times. It was strange not being able to meet before the service and R. and I were concerned that the need to make the arrangements by 'phone and email would mean that there was insufficient input from my Mum, who does not email and is slightly deaf so copes better face to face than on the phone.
Your suggested service provided a great starting place to work from and you were helpful and responsive by 'phone and email to deal with changes. By the day of the service it felt as fitting a send-off as could be achieved, given the Covid-19 lock down and the fact that so few guests could attend.
Thanks again for your help.
K. Boddy
Pre-COVID
It was an absolute pleasure working with Micheal on my fathers cremation. This time is very distressing but Micheal made the process of writing a eulogy much easier as he pieced together all my notes into a true reflection of the gentleman my father was.  He selected beautiful readings and kept in touch throughout the process always offering the opportunity to alter the readings if needed. 
L. Daniels
We were both very happy with the way the service went and found you to be very easy to talk to and work with. You were very flexible and open to our ideas and helped make it a lovely send off for my Dad. There is nothing you could have done better, so thankyou very much for that.
J. Powell
Myself and Kim were extreamly happy with the way things went on the day of dads funeral which obviously included your part in the proceedings, thank you very much.
Kims father in law enjoyed the service so much he said he would like to book you for his funeral, my best and oldest friend told me that he really enjoyed the service, the way it was presented and the content.
All in all I don't think we would have changed anything.
G. Sanders
We were so pleased – and relieved – that the funeral service went so smoothly. It was all due to your total professionalism which we really appreciated.
We have had many comments to say how perfectly the service reflected Betty's character which was our aim. Wally could see people nodding in recognition when you were delivering the eulogy.
S. Katz
Thank you Michael for helping with our family funeral. Your calm, professional and sympathetic manner when you first met us to discuss the funeral was a great support. You discussed our needs and listened to the way we wanted the funeral to be run, accepted our input and participation in the service, and were willing to make any changes we requested.  The service ran very smoothly thanks to your calm and competent facilitation, and this helped to make it a celebration of Ian's life. Several guests commented that it was a lovely service.
E. McAleese
I just thought I would drop you a quick note to say a big 'thank you' to you for your efforts yesterday.  At the wake we received nothing but praise from Mum's family and friends for the way you conducted the funeral, getting the mood of the congregation just right, and smoothly and gently taking us through the service.  I know this is what you do but every one thought it was wonderful.  Thank you.
D. Collis
Thanks for all the work you've done for us. Your help over the past few weeks has been invaluable.
A. Mistry
Myself and others at the funeral of my sister highly praised you for the beautiful service you gave..it wasn't rushed and it flowed through  nicely. All in All wonderful at such a sad time.Thankyou 
Gaynor S.
Please pass on my extreme gratitude to Michael today he was absolutely perfect, and from chatting to A. he says he's been amazing through this whole process. 
                             R. Majors                               
You were of great assistance to me suggesting suitable poems and the format of the funeral and thank you so much for the way in which you conducted the service. Everyone who attended commented on how it was such a lovely service, which made what was naturally a sad time, much more pleasant & bearable.  I know Roger would have been pleased.    
C. Millsom
Our whole experience at this very difficult time was extremely good, we could not fault it and as for having you being the 'master of ceremonies' it was great you took all the responsibility of running a perfect ceremony, thank you for all your time and effort we really did appreciate it.
L. Knapp
Michael was professional in his approach and helped to deliver a moving event for my mum's funeral. I would not hesitate to recommend him.
C. Baker
Writing and planning a funeral service for a parent is never easy and not something you'd ever wish to practice. Celebrant Michael made the entire process easy whilst being sympathetic to my needs. He took the time to explain aspects of the service as well as quickly draft the wording, selecting appropriate readings and providing recommendations on what I could do within the service time. Within days we managed to create a service running order and speech which fulfilled all my needs and expectations, creating a service as my true farewell having heart, hope and remembrance. On the day he delivered the speech with warmth and respect, I couldn't have asked or expected for a better service. Thank you Michael.
Matthew Lai
My sister and I didn't want a religious ceremony for the cremation of our brother and decided on a civil celebrant.  Michael came recommended to us by the funeral director.  From the outset he was very sympathetic to our needs.  Like many having to organise the funeral of a loved one, we were both outside our comfort zone in what we needed to include for the service.  I live in Swindon and my sister in London so a face to face meeting was going to be difficult to arrange. Michael liaised with us both by phone and email to create an order of service.  Having listened to our thoughts and what our brother liked, he emailed us a draft order of service incorporating those ideas.  This draft was spot on and we didn't need to change anything.   He advised on a couple of poems and we included one we wanted.  The service was lovely and we were very grateful to Michael for making the funeral planning as stress free as possible.  Everyone who attended also commented on the lovely service.
Elaine Lloyd   Viva Brake
I just wanted to say a huge thank you for making a very difficult day much more bearable.
Everyone has told me what a beautiful service it was and I hope that Ray was looking down on us all  and was happy that we honoured him so well.
S Orchard
I was meaning to contact you to thank you for your service last Thursday.
It went so well and I had so many compliments from friends who came to the funeral.  You had conducted the service so well and I couldn't ask for better one. You had also been so helpful during the preparation.  I am glad that Sue had recommended you to me. 
Again, thank you so much for conducting my husband's funeral. 
M Athron
I just wanted to say thank you so much for delivering the service so perfectly on Thursday. You did a fantastic job and a lot of people commented on that.
D Ramsden
You helped me through a trying process at a very difficult time.
The output of our collaboration was your excellent delivery of the service, which provided a great narrative of my sister's life.
By the nature of the event, there was sadness at times, but also humour, which is what she wanted.
Everyone commented on what a lovely service it was, and some joked, (including me) about booking you for their own funeral.
Thank you very much.
T Manning
I wanted to thank you again for officiating at our mother's funeral yesterday. The day went well, as one can say, and it was as our mother would have wished. Though you did make it that very special and your spoken French is outstanding; it was much appreciated by the French speakers I can assure you.
P Andrews
We were very pleased with the way Michael did the service and what Dad did in his life to the end  First class Brilliant would Recommend Michael to any one he Listened to what I said and suggesting ways to tell dads life and loves feelings and made the day better but it was a sad to lose Dad.
A H Hall
Michael was suggested as the celebrant for my uncle's funeral.  He suggested the framework, and included a beautiful poem.  We added the eulogy, some music and a particular prayer that was meaningful to my uncle. The whole service came together really well.
In the days before the funeral Michael was super-quick to respond to emails (I had some very minor questions) and on the day itself he was a calm and friendly presence.  I felt we were in good hands right from the start.
 He took the service beautifully, although the crematorium has a time-limit of 30 minutes per service, we did not feel at all rushed. 
 I'd be very happy to recommend Michael to any of my friends.
H Thom
Thank you once again for a beautiful service. Everyone commented how lovely it was and how great you were.
Thank you for making my mum's funeral perfect.
A. Chamberlain
Thank you again Michael for the wonderful eulogy. Everyone commented on how perfect it was.
She'd have loved today x
L. Webster
Our family would like to thank you for preparing and giving such a wonderful and thoughtful ceremony on the death of our grandmother. Your compassion and helpfulness leading up to the funeral was such a help to us all and it was obvious that you took the time to get to know your customers and were able to cater for our specific needs. We were most impressed with your speed and professionalism in preparing the ceremony, made the effort to come to the reception even with prior engagements, and you took the time to keep in constant contact throughout the whole affair.
Please accept our most sincere gratitude for making our day a memorable one.
Stuart Howe
Thank you for a very professional, humble and dignified job at Dad's funeral. The service was very special and many people have commented on just how well it all worked. Lovely to have you on board as part of Team Williams at our worst time. You and Tim have been lovely. I'm sure my mother will be in touch to express her gratitude but as you understand Dads death is still very raw for all of us.
S. Williams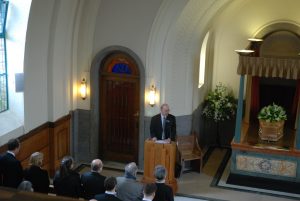 We found Michael Gordon to be very professional and understanding of our requirements.
Our first meeting with Michael was when he came to our house and was very punctual and extremely easy to speak too. Michael took notes and listened to how we felt the service should proceed and made recommendations of things that we had not thought about. On the day Michael delivered a lovely service and remained with the family until we were ready to leave.
We feel that Michael helped a most stressful day run very smoothly and would have no hesitation in recommending Michael Gordon.

The Greens
Please accept our very sincere thanks from Mum, David and I for the most wonderful service that you gave for my Dad on Tuesday 2nd June. We all really appreciated the service and really felt that you summed up Dad beautifully – it was lovely. The day went exceptionally well and Mum is so pleased that we gave Dad a perfect send-off, not in any small part due to you. Our family and friends all commented on how lovely the service was and was 'John'.
Very many thanks once again for all your help throughout this very painful time – you have helped tremendously.
J. B.
Thank you very much for your help in organising Alan's funeral and ensuring the smooth running on the day. Your calm and professional presence enabled us to concentrate on our final farewell.
D, A, H and C Short