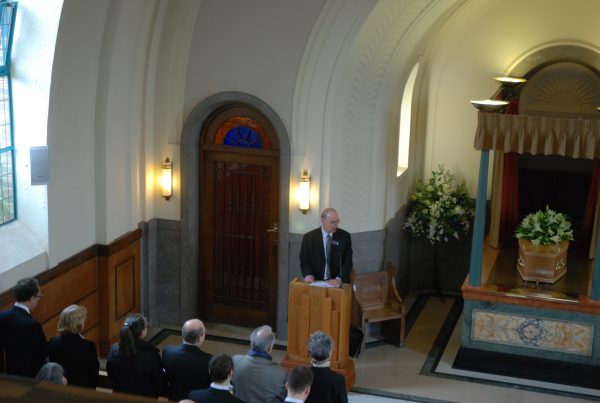 As a celebrant, I have worked with families on funeral Orders of Service for quite a long time. In fact, I have performed over 150 funerals to date. So I have reasonable experience of putting bespoke ceremonies together.
When it comes to putting a funeral together, each family is likely to have one element (at least) that concerns them. One of the purposes of my home visit is to reassure them and explain what is possible.
Problem areas
Usually, the main areas that trouble my families are religion, the eulogy and the music. Some are afraid of what other people will think, if they deviate from "the normal". I usually try to guide them between going to an extreme and kowtowing to others (ie, not having what they, as next-of-kin, believe is fitting).
Religion
The families will come to me (or be sent by the Funeral Director) because they don't want a full religious service. (They may want a dose of religion, though, and I am happy to supply this.) Reasons will often be because the deceased definitely would not have wanted all the trappings, or the surviving family is uncomfortable with religion.
So a compromise solution is often reached (whereby we might include The Lord's Prayer and/or a blessing or, possibly, a hymn, but the readings will be spiritual).
Eulogy
Many people feel bewildered or lacking in confidence at having to write a eulogy or tribute. (Of course, the celebrant can put one together for them based on their conversation. Or he/she can get them to put together bullet points, and create something out of those.) Families also worry about delivering it, but, again, the celebrant can read it for them. That said, if you break down during the eulogy, who is going to blame you, or think the worse of you? It's a funeral, after all, and you are allowed to grieve!
Whoever puts the eulogy together, it should last about 4 or 5 minutes (but it will depend according to the deceased's life). I advise that it should include essential biographical information (not necessarily over-detailed, if not relevant) but also a few appropriate stories. These can be funny, especially if the funeral is a celebration of life. What is nice is if the stories can shed light on the deceased's character or choices.
Music
A lot of people go by what they have witnessed, if they have attended other funerals. They assume that you have to have solemn, classical music, which is not necessarily the case.
I suggest that there is music for entry and exit (the latter perhaps to be more uplifting). There can be something in the middle, if wanted.
Some people have no idea what to choose. I usually advise something the deceased liked or that reflects his or her hobby or profession.
Although many go for "My Way" or "Always Look on the Bright Side of Life", why not individualise the music? I have had many a surprise from people's choices. When one particular family said they wanted something by Metallica ("Nothing Else Matters"), I thought, "Surely not!"
When I got home, I went on YouTube and discovered that this song was not only appropriate to a biker but actually wonderful music. So I have learned not to pre-judge!
I hope these words are helpful to anyone who might be negotiating their way to planning a loved one's funeral (or, indeed, a lifetime funeral!). They can normally be assured of the advice and support of both Funeral Director and Celebrant, so things need not be as difficult as they may at first appear.